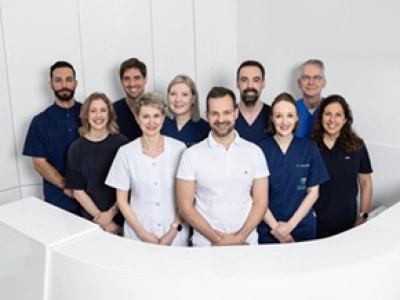 Dermatologists
YOUR SKIN DOCTORS IN VIENNA AT THE HAUPTBAHNHOF (Main station)
DEAR PATIENT, WE ARE YOUR SPECIALISTS FOR ALL QUESTIONS AROUND THE BIGGEST ORGAN OF THE HUMAN BODY - YOUR SKIN.
We are pleased to be able to offer our patients a modern medical center in Vienna where we utilize the latest technology. We have a wide variety of lasers and ultrasound; modern, certified surgery rooms and in-house laboratory services. We are complemented by a team of beauticians and podiatrists who offer a wide range of services.
For mole checks, we use a full-body scanner that documents the skin of your entire body and compares any changes using artificial intelligence. The scan results are passed onto the dermatologist, who assesses the noticeable changes with 140x magnification and is also able to save them. By storing the images of the whole-body mole scanner with enlarged images, the development of moles can be followed over time.
Thanks to the various lasers available to us, protruding skin lesions can be removed with little scarring, red vessels on cheeks, the nose and other areas of the body can be removed, nail fungus can be treated, and body hair removed. For the surgical removal of certain alternations, we often sew under the skin in order to significantly reduce scarring (intracutaneous suture). We have the modern PICO laser for painless and effective removal of tattoos and permanent make-up.
For the optimal treatment of classic skin disorders such as acne and psoriasis, we are committed to a holistic treatment approach that reduces the signs of aging and achieves a natural and fresh appearance of the skin. With Prof. Dr. Rzany we have a renowned expert on esthetic medicine in our team.
In our practice, we also offer a particular focus on Acne Inversa (Hidradenitis suppurativa). We specialize in the treatment of painful lumps and abscesses under the armpits or in the genital area, and we offer lAight® therapy treatment (combination of light and radio frequencies), among other options, for affected patients.
We focus on working alongside our patients to develop a sustainable overall treatment approach that encourages the desired long-term outcome. In order to achieve this our team trains continually to be able to offer our patients innovative approaches and the latest technologies. The top priority for us, as dermatologists, is to keep your skin healthy and naturally beautiful!
At this point we would like to make mention that the specialty of the dermatologist also includes the treatment of sexually transmitted diseases. Thanks to our in-depth training, we are up to date with the latest treatments for syphilis, gonorrhoea, and chlamydia, among others. A special PrEP consultation is possible with Dr. Bodner.