Hidradenitis suppurativa or acne inversa

DO YOU HAVE PAINFUL LUMPS OR ABCESSES UNDER YOUR ARMPITS OR IN THE GROIN AREA?
Photo: © vladimirfloyd – stock.adobe.com
If this is the case, you may be suffering from hidradenitis suppurativa or acne inversa, an extremely stressful condition that can reduce life quality much more than with other skin disorders.
What are the triggers and causes of acne inversa and how should it be treated? You will find answers to your questions here:
Acne inversa (hidradenitis suppurativa) is characterized by chronic inflammation and purulent abscesses in the armpits, groin, genitals or buttocks. They are persistent, do not heal on their own and are accompanied with severe pain. In the advanced stage, it is not just the pain, but the scar formation that limits mobility.
If you notice these symptoms in yourself or a family member, seek the advice of a dermatologist immediately. Such skin alterations must always be examined by a doctor.
Studies show that acne inversa is one of the skin conditions that has the greatest negative impact on quality of life. This is understandable because patients suffer from acute pain and discomfort in and around highly sensitive parts of the body. In addition, acne inversa is taboo due to the affected parts of the body, which is why patients often feel shame. As a result, the disease negatively affects both social and sexual life.
Only a few people have heard of the name acne inversa. However, the condition is not uncommon. It is estimated that up to 2% of the population suffer from it. Studies have shown that the diagnosis takes an average of seven years after the onset of the disease.
Often, a visit to the doctor only happens when the conditions is already at the acute inflammatory with severe pain stage. Doctors often prescribe medication for this acute state, without diagnosing the actual condition and instead of putting the patient on the correct comprehensive course of treatment.
A diagnosis of acne or folliculitis (inflammation of the hair roots), or an acute abscess, is often made, which fails to consider the chronic abscess disease that acne inverse is. Often, the suggested treatment does not yield positive results and leaves the patient feeling frustrated and helpless. It is not uncommon for patients to suffer in silence on the assumption that their condition cannot be alleviated. The characteristics and development of the condition vary between patients to differing degrees. Research is working on classifying the disease, but valid models do not yet exist. More women than men are affected, and the disease is not limited to certain skin types. There also seems to be a hereditary component, since blood relatives (close and distant) are often affected.
The exact cause of acne inversa or hidradenitis suppurativa is currently not fully understood. It is considered probable that a hyperkeratosis of the hair follicle leads to a blockage of the excretory duct causing acne inversa to occur. As time passes, the hair follicle tears open under the surface of the skin surface, causing painful inflammation. In Austria the disease is classified as an autoimmune disease, while in Germany it is considered a disease with auto-immune traits. This is due to the different inflammatory response of the body from patient to patient and the fact that the purulent inflammations are bacterial.
So, as we can see, the appearance of acne inversa or hidradenitis suppurativa is not just caused by a misguided immune system response, even though the response to colonization in the blocked hair follicle is excessive. Nevertheless, the only drug approved for the treatment of acne inversa is an immunomodulator, a "classic" drug for autoimmune diseases.
Acne inversa differs from the so-called "normal" acne, referred to as acne vulgaris, mainly because of where it is found. Acne vulgaris appears on the face, chest or back, and increased sebum production is present in acne vulgaris. However, in both conditions hyperkeratosis of the hair follicle occurs.
In contrast, the areas affected by acne inversa are skin folds, usually around the groin, armpits or genitals. Only very rarely is the face affected. Often blood-related people suffer in varying degrees from the condition. The first symptoms are red, painful inflamed nodules. These then develop into abscesses. Intense flare-ups can occur from time to time and permanent scarring cannot be excluded. The resulting diminished quality of life is an additional heavy burden. Patients with inverse acne suffer from chronic inflammation, which places an enormous stress on the body. As time goes on, other symptoms appear that indicate the presence of additional diseases.
The exact triggers for acne inversa or hidradenitis suppurativa are unknown. Among the most frequently mentioned factors are hereditary predisposition, obesity, nicotine, bacterial colonization, stress, hormone status and chafing clothing.

They are two different conditions with different causes. Excessive sebum production in acne vulgaris is often caused by hormonal changes, and it is not a chronic disease that the patient suffers from for many years. In contrast, acne inversa often only appears after puberty. Acne vulgaris treatment methods, such as a high dose of vitamin A or fruit acid peels, have proven ineffective for acne inversa (hidradenitis suppurativa).
First of all, despite constant medical advances, acne inversa or hidradenitis suppurativa is not curable. With a coordinated drug treatment plan, depending on the location and severity of the affected areas, the following options provide favorable opportunities for relief:
Localized antibiotic treatment for flare ups

Ointments applied to the acute areas

Zinc supplements in high dosages (in combination with other treatment methods)

Oral antibiotic treatment over a longer period (weeks, months), and in the case of severe diagnoses (double antibiosis)

Androgen blockers (pill) in women

Hormone treatment, only if prescribed by a specialist and with medical supervision

Immunosuppressive therapy using antibodies / biologicals in therapy-resistant cases
In particularly severe cases, surgical intervention should be considered. Fistulas and deep nodules can be treated surgically in a clinic specializing in acne inversa. This removes all abscesses and nodes, including the scar tissue in the affected areas. This surgery is followed by open wound healing, which, depending on the results, can take two to three months. In many cases, permanent relief (remission) is achieved because the renewed tissue no longer contains hair follicles. The danger is that there is a recurrence in the periphery of ​​the affected areas, or that the condition has progressed to such an extent that irreversible damage cannot be avoided. This can represent an enormous psychological burden, especially for those where the genital region is affected. Because it is a chronic disease, one cannot rule out that symptoms could appear elsewhere, even after surgery.
Since 2017, LAight® therapy has been approved as a treatment method for acne inversa or hidradenitis suppurativa in Europe.
It is a combination of a special light spectrum and a radio frequency. Targeted light waves are anti-inflammatory, germicidal and reduce hyperkeratosis of the hair follicle. The radio frequency ensures a targeted attack on the abscess or fistula wall, thereby stimulating new tissue formation and regulating sebum production. This leads to the opening up of the blockages, as well as a drying up and decline of existing comedones (blackheads).
Dr. Bisschoff was able to gain a lot of experience with LAight therapy during his specialist training in Hamburg. It was a pleasure to monitor the success of the treatment in a large number of patients. With regular therapy, he observed the success of this drug- and surgery-free option, though of course the LAight therapy can also be combined with other treatments.
We are very pleased to offfer the lAight therapy in our office in Vienna since March 2021. We have specially trained doctor's assistants on our team who have a lot op experience with acne inversa (hidradenitis suppurativa) and lAight therapy.
Recent studies show modified colonization (microbiome) of the skin and intestines in patients affected by acne inversa. Based on analyses of the existing population of the study, a proposal for alternatives is being developed. It is assumed that a change in germ colonization will soon make it easier to understand and treat many diseases that are difficult to treat today.

Fortunately, there are continuously emerging treatment options for individuals affected by hidradenitis suppurativa. Currently, there are two approved antibodies, also known as biologics, which are administered through injections. These therapies aim to modulate and alter the misdirected immune response. It is essential to undergo regular monitoring by experienced physicians, all of our doctors are well-versed in this form of treatment.
Additionally, there are ongoing developments in the field, with other medications currently being researched and developed. Our practice consistently participates in the development of new drugs to aid our patients and contribute to the advancement of medical and pharmaceutical research.
Currently, we are seeking individuals with hidradenitis suppurativa to participate in a clinical trial. In this study, an investigational product that is not yet available on the market will be tested. Phase II research, which includes efficacy assessments, has already been completed. Phase III focuses on providing significant evidence of effectiveness by involving a larger number of patients. The data collected during the treatment will help evaluate the drug's efficacy and side effect profile. The advantage for you is that you will receive the medication and medical treatment free of charge while part of the clinical trail, while also contributing to medical and pharmaceutical research for the benefit of yourself and other affected individuals. Is this something you would be interested in? Would you like more information? Please send us an email, and our study coordinator will gladly contact you by phone to discuss the study in detail.
For more information about the condition, you can contact the support group Mullewupp e.V. Excellent educational work is carried out there. Further information can be found at www.akne-inversa.at. There you can find a built-in symptom check, which provides initial insights.
We are happy to create a treatment plan with you in our office.

Aside from medical treatment, lifestyle changes can also influence the severity of symptoms:
Stress Reduction
Avoid irritation of the skin (no tight-fitting clothes, no synthetic materials)
Germ reduction in the affected areas (e.g. disinfectant washing lotion)
Avoid wet shaving (due to the risk of micro lesions and their bacterial colonization)
Weight reduction for anyone overweight
Nicotine avoidance or reduction for smokers
We would be happy to help you create a holistic plan to alleviate your complaints.
More Information:
1) Our article on LAight® Therapy is now online - LAight® Therapy Improves Hidradenitis Suppurativa in Patients Declining Surgical Intervention: Two Case Reports
2) ACNE INVERSA: INTERVIEW WITH DR. JOHANNES BISSCHOFF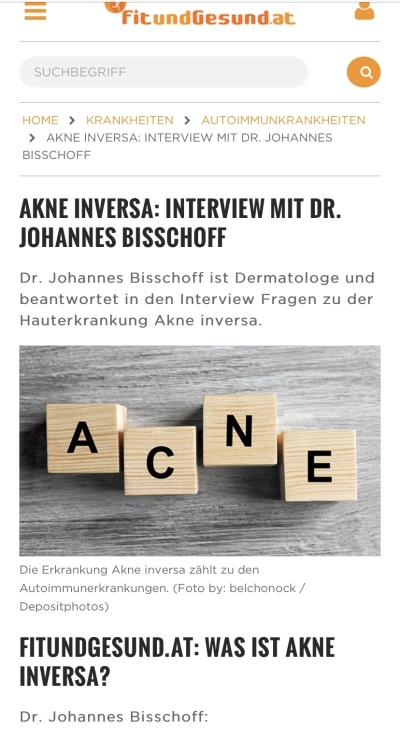 Read more now at fitundgesund.at (German)