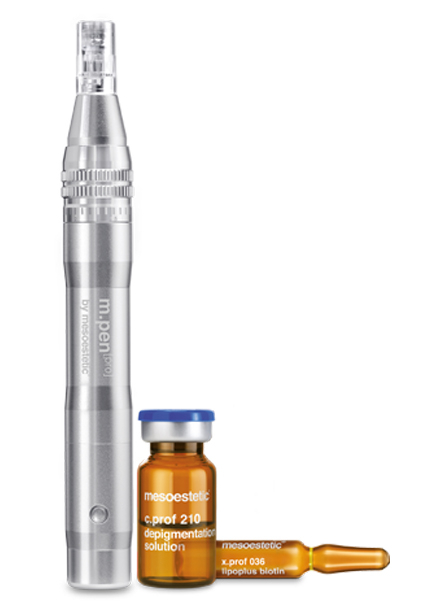 MICRONEEDLING
MICRONEEDLING CREATES MICROSCOPIC PUNCTURES IN THE SKIN. THIS STIMULATES THE BODY'S PRODUCTION OF ELASTIN AND COLLAGEN. THE GOAL IS TO IMPROVE THE APPEARANCE OF THE SKIN.
Microneedling can stimulate collagen production, smooth wrinkles, and define contours. It is also used for cellulite, scars, pigment disorders, melasma and generally loose connective tissue. The skin and its elasticity are strengthened. Uneven tissue is smoothed out and pores are often refined. As a result, the skin looks younger, smoother, and firmer.
The effectiveness of microneedling has been clearly proven in scientific studies. It was demonstrated by M. Schwarz, Laaff 2011 that this application stimulates the regeneration of collagen fibers. It was observed that the skin tightening effect is long-lasting.
After a consultation and an examination of the skin areas to be treated, treatment is carried out. A handpiece fitted with fine needles is used for microneedling. Treatment is carried out in a wide variety of intensities, individually adapted to the condition of the skin. The body's own elastin and collagen production is simulated by the microscopic punctures. The tiny punctures represent small injuries and trigger a healing process. Growth factors are released, which produces collagen, elastin, and hyaluronic acid. The duration of the treatment is around 30 minutes.
The treatment is carried out at intervals of 4-6 weeks. Usually, 4-6 treatments are required to achieve lasting results. A booster treatment can be carried out every 3 months.
Microneedling is the creation of microscopic punctures in the epidermis in order to fully activate the skin's repair mechanism. If active substances such as hyaluronic acid or vitamins, which are adapted to the skin type, are introduced through the channels that are open for a few minutes, this is called mesotherapy. In this way, successful treatment can be optimized. Please note: the term mesotherapy is also used for superficial injections by a medical professional.
A cosmetic team is available in our medical center in Vienna to take care of aesthetic problems of the skin. More details can be found here.
Socialising will be restricted for about 1-2 days after the treatment.
Exercise and sauna should be avoided on the day of the treatment itself. In the first three days after mesotherapy, we recommend using only mild cleaning agents and light, fragrance-free care products that do not contain alcohol or acids. It is also important that you consistently use the highest possible sun protection in the following weeks.