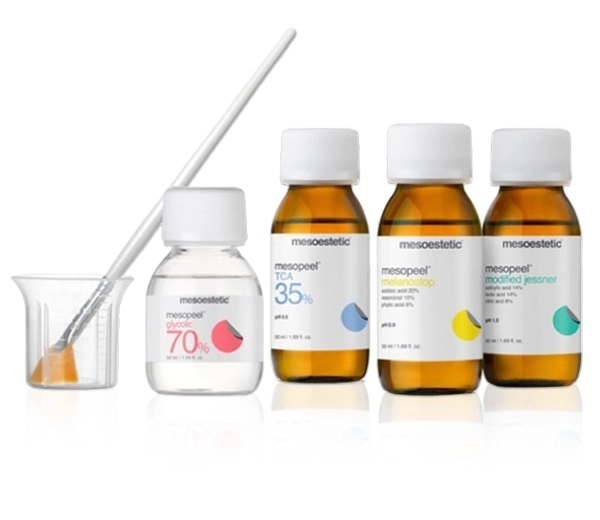 CHEMICAL PEELING
THIS METHOD MAKES THE SKIN LOOK FRESHER AND MORE RADIANT AND IS ALSO USED TO TREAT HYPERPIGMENTATION AND ACNE. PERFECT FOR NATURAL BEAUTY AND A MORE YOUTHFUL LOOK.
Chemical peeling is a non-invasive method that is used to refresh and rejuvenate aging skin, to minimize fine wrinkles, to minimize scarring caused by acne or enlarged pores, and to remove pigment spots. Chemical peels can also have a beneficial effect on particularly oily skin. An acid treatment is used to remove the superficial layers of the skin. This triggers a powerful stimulus within the skin and older layers of skin are replaced by new ones as part of the healing process. The complexion appears plump and even.
In many cases, peels are used as the optimal treatment method. Primarily, peels lead to a fresher appearance and are therefore often used as an anti-aging treatment. Even with acne, they calm the skin and are suitable for treating scars. In the event of discoloration or pigment spots, certain peels lighten the skin. Specific areas such as dark circles under the eyes are treated with a special peeling.
Depending on your needs, the peeling is selected individually and tailored to your skin and requirements. We often use the following active ingredients alone or in combination.
Glycolic acid: Glycolic acid is made from sugar cane and is considered one of the first active ingredients in modern peels. This has literally resulted in a revolution in the cosmetic medical industry and is mostly used in fruit acid peels. The skin is tightened, and visible wrinkles are reduced. Fruit acid is particularly recommended for wrinkles, sun damage and acne scars.
Mandelic acid: Mandelic acid is obtained from almonds and is ideal for older, hyperpigmented and oily skin. Fibroblast cells and connective tissue structure are stimulated, and collagen synthesis is activated. Mandelic acid is particularly recommended for men and people with pigment spots, open pores and oily skin.
Salicylic acid: Salicylic acid is obtained from the willow bark and has gained worldwide fame through the drug aspirin. In cosmetics, salicylic acid is mainly recommended for acne and acne scars. It has an excellent effect on sebum gland production and is both antibacterial and antiseptic.
Lactic acid: Cleopatra knew about it and swore by it. Lactic acid is obtained from dairy products and is especially recommended for very sensitive or younger skin. The acid is processed into a very light peeling, which makes the skin glow.
TCA peeling: Trichloroacetic acid is a stronger acid, which we like to use as a medium-deep peeling for scars or hyperpigmentation. The TCA peeling is also a very effective anti-aging peeling. Depending on the results, you can expect to need a few days of home rest after this treatment.
Daily use of sun protection is generally recommended after peels. We advise against peeling in midsummer. The following list of contraindications should also be taken into account when considering a chemical peel treatment:
Acute herpes infection or strong susceptibility to it
Oral intake of vitamin A acid preparations (e.g. Ciscutan) during the past six months
Recent surgery in the area
Any current radio- or photo-chemotherapy treatment
Strong tendency towards hypertrophic and keloid scars
Any recent cryotherapy (must be at least six to eight weeks prior)
Pregnancy or breastfeeding
Sunburn or a deep suntan
High susceptibility to post-inflammatory hyperpigmentation
Especially after the first applications of highly concentrated acid, irritations such as reddening of the skin, increased sensitivity, dryness, burning, itching and possibly scaling and crusting of the top layer of skin can occur. These reactions usually subside over time as the skin gets used to the peel. In very rare cases, slight pain, weeping wounds, changes in pigmentation, sluggish wound healing or scarring can occur. Appropriate aftercare and sun protection can usually prevent these side effects.
Please do not scratch, peel or rub the peeling skin. Do not go into the sun immediately before and for up to three to four weeks after the peeling without using a high sun protection factor. If you were to expose the recently treated skin in this way, scars and/or changes in skin pigmentation may occur. Visits to gyms, saunas and swimming pools are discouraged immediately after the peeling due to the higher concentrations of bacteria that can be found in these areas.
Please feel free to contact us at any time if you have any further questions or doubts regarding our skin peeling options. We are available for you in our practice in Vienna.