HAIR LOSS
MANY PEOPLE HAVE HAIR LOSS OVER THE COURSE OF THEIR LIVES. THIS CONDITION CAN BE CAUSED BY A VARIETY OF FACTORS. MANY PEOPLE AFFECTED BY HAIR LOSS FIND IT VERY STRESSFUL.
Photo: © and.one - stock.adobe.com
Every day, a physiological hair loss of between 70 and 150 hairs takes place.
There are many causes of hair loss. Factors such as stress, nutrient deficiency, certain diseases (e.g. metabolic diseases, autoimmune diseases) or the use of certain medications often play a role in hair loss. Fortunately, after treatment, or elimination of the cause, the hair usually grows back again.
Increased hair loss due to seasonal factors is also common.
Other possible causes of hair loss include a genetic predisposition (especially in men) and hormonal changes (e.g. in women after pregnancy or during menopause).
There are different types of hair loss. A distinction is made between round patches of hair loss (alopecia areata), and diffuse hair loss (alopecia diffusa), that affects the whole scalp.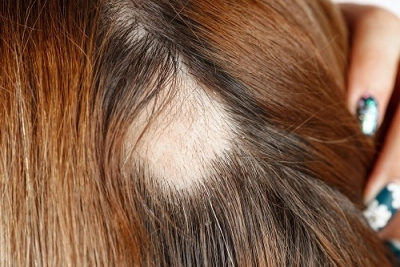 With hair loss in patches (alopecia areata), there is often a connection with an underlying disease, such as thyroid disorders.
Hair loss where scarring develops (scarring alopecia) is less commonly caused by a scalp disease. In this case, a fungal infection or an autoimmune reaction can be the cause. It is important to promptly initiate treatment - after scarring, hair can no longer grow in the affected areas.
In order to be able to initiate the appropriate treatment, a comprehensive evaluation is required (detailed medical history, assessment of the scalp, blood tests, etc.). In some cases, a scalp biopsy is necessary to rule out scalp disease.
New:
We recommend a Trichoscan, here the scalp is documented using high-resolution photos and then analyzed. In addition to the number of hairs in the different regions of the scalp, we also get further information, e.g. how many hairs are growing. But hair thickness and diameter are also measured. Without removing hair, a special camera can be used to ascertain the status based on the living hair. This helps us to assess how your individual hair growth behaves, whether there is pathological hair loss in your case and thus to determine an individual therapy for you.
This procedure is also suitable as a follow-up check after successful therapy. The costs are EUR 90 per scan.
Treatment depends on the exact form of hair loss and the underlying cause(s) that are detected. After a comprehensive diagnosis, we will provide detailed advice on possible treatment, so that we can then decide on a course of action together.
In addition to treating the possible underlying disease and eliminating factors that may promote hair loss such as stress or deficiencies, the available treatments include local and systemic therapies, PRP (Platelet Rich Plasma; blood therapy) and mesotherapy. If deficiencies have been detected, dietary advice is recommended, and we like to refer patients to our trusted and experienced nutritionist.
Book your appointment in our practice in Vienna here