Dr. Johannes Bisschoff, Dermatologist and Allergologist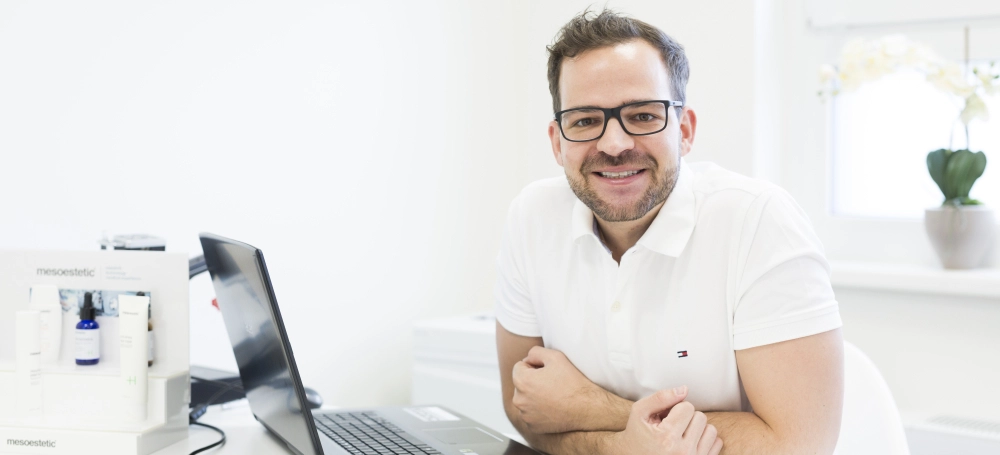 I am a true international Vieniese. I was born in South Africa and studied in Germany where I completed my training as a specialist for skin and venereal diseases in renowned clinics and practices in Heidelberg, Stuttgart, Berlin and Hamburg. Other postings in my extensive training program include stays in the US, China and Malaysia. After my residency I moved to Vienna, where I now practice in:
Medizin am Hauptbahnhof, Karl-Popperstr 8/203, Quartier Belvedere - QBC 6, 1100 VIENNA.

A large number of international training courses, my strong commitment to continued education and the latest technologies coupled with my innovative approach, make me your competent partner. It is extremely important to me to offer you a holistic approach, to keep your skin healthy and naturally beautiful.
In addition to the field of dermatology, I have the additional qualification in allergology. This makes me your specialist for allergic diseases and intolerances. Thanks to my further additional qualification in phlebology, I am also available for the prevention, detection and treatment of diseases of the venous system on the legs.
---
Thesis
12 / 2008- 04/2011 Institute of Human Genetics, Albert-Ludwigs-University, Freiburg (Director: Prof. Dr. J. Fischer)
Topic: Molecular Genetic and Clinical Analysis of Patients with Orofaciodigital Syndrome (OFDS)
---

Work experience
Since 05/2019 Theraiezentrum am Hauptbahnhof, Vienna
Specialist Dermatology and Venereal Diseases

Since 01/2016 Silkmed Distribution GmbH, Munich and Swissestetic GmbH, Zug (CH)
Medical Trainer:
Filler, peeling, PDO threads, mesotherapy
11/2018-10/2019 The Aurora Ärztezentrum, Vienna
Specialist Dermatology and Venereal Diseases
06/2018 - 02/2019 Practice Kasche, Dr.med. Daniela Kasche, Hamburg
Specialist in Dermatology and Venereal Diseases
---

TRAINING
07 / 2018-02 / 2019 Resident Phlebology (veins) and Allergology Practice Kasche, Dr. med. Daniela Kasche, Hamburg https://dr-kasche.eu/

10/2016 - 06 / 2018 Resident Dermatology, Dermatology
Practice Kasche, Dr. med. Daniela Kasche, Hamburg https://dr-kasche.eu/

01/2015 - 09/2016 Resident Dermatology, Department of Dermatology and Allergology, Vivantes Spandau, Berlin

11/2013 - 12/2014 Resident Dermatology, Hautzentrum Innenstadt, Dr. med Jens Tesmann, Stuttgart http://www.hautzentrum-innenstadt.de/

01/2013 - 09 2013 Resident Dermatology, University Department of Dermatology, Heidelberg, Germany

10/2005 - 11/2012 Study of Human Medicine Albert-Ludwigs-University Freiburg, Germany

01/2005 - 12/2010 Study of Business Administration University of South Africa (UNISA), Pretoria, South Africa Focus: Marketing, International Relations, Operations Management Degree: Bachelor of Commerce (Management)

12/2003 Graduation - Senior Certificate Hoërskool Waterkloof, Pretoria, South Africa
---

Memberships
EADV (European Acadamy of Dermatology and Venerology)
DGP (German Society for Phlebology)
DGDC (German Society for Dermatosurgery)
ADK (Working Group Dermatology and Cosmetology e.V.)
BVDD (Professional Association of German Dermatologists e.V)
ÖGDV (Austrian Society for Dermatology and Venerology)
Austrian Society for Dermatological Cosmetology and Age Research
ABD (work group for occupational and environmental dermatology)