SEXUALLY TRANSMITTED DISEASES (STDS)
Are you suffering from genital discomfort accompanied with burning, itching, a rash or discharge? In this case, it could be an STD or the first signs of a systemic disease such as diabetes. An evaluation with a dermatologist is recommended.
Foto: © pathdoc– stock.adobe.com
Make an appointment now in Vienna.
To begin with, an exact history is important. How long have you had symptoms? Are the symptoms constant or have they changed? Are there or have there been any visible changes? Have you been exposed to risk via sexual contact? After these questions have been discussed in detail, an examination and, if necessary, a test / smear is carried out to determine whether there is an infection or harmful bacterial population. Further procedures will then be discussed. It is important for me that my patients feel they are in good hands and are comfortable enough to speak to me openly. From my side it is important to address your symptoms as quickly as possible, with your good health and well-being as my primary goal.
In the genital area there are contagious and non-contagious diseases. Infectious diseases can be a classic STD (sexually transmitted disease) such as syphilis for example, or they can be warts or fungus that can be transmitted this way, but are not seen as classic STDs.
Fungal infections, genital warts, lice or scabies can also occur in the genital area and are contagious. But there are also many non-contagious diseases that can cause symptoms. In the genital area, for example, acne inversa, psoriasis or atopic dermatitis can occur. Certain types of cancer or preliminary types of cancer must also be considered. Rapid, detailed investigation and subsequent treatment play a decisive role in the development and curability of these diseases.
There are several sexually transmitted diseases that are currently on the rise. If purulent discharge is present, we could be looking at a gonococcal infection (gonorrhea or gonorrhea). This is a highly contagious disease. Unfortunately, we are seeing more and more cases of resistance to this disease, which is why a double course of antibiotics is recommended, even if it cannot yet be implemented everywhere. Another common genital disease is chlamydia. In this case, an increase of clear discharge is present. In women, chlamydia can lead to infertility. Other diseases in the genital area are mycoplasma, ureaplasma, chancroid or genital herpes.
More cases of syphilis have been reported again for several years. Most often, this disease manifests itself as a painless wound in the genital area, in which the pathogen is infected. This 'primary effect' can also occur in the anal or the mouth area and is therefore not immediately detectable. The wound is rich in syphilis bacteria and very contagious. Even though the wound disappears after a few weeks, this does not mean that the disease is cured. Untreated illness can continue to exist in the body and can cause problems such as heart or neurological disease in due course. Therefore, prompt medical treatment is extremely important to avoid consequences that can occur later on.
Other sexually transmitted diseases are HIV and hepatitis B and C.
STDs fall into both the ​​dermatology and urology specialist areas. One can find urologists who can deal with venereal diseases and who have also undergone further training in the area of STDs. However, the principal contact for sexually transmitted diseases are specialists in skin and venereal diseases (dermatologists) as they are constantly up to date with the latest treatment options.
Yes. Many diseases are asymptomatic, i.e. without any noticeable symptoms, but can still be contagious to others. Depending on the disease, those affected may experience unpleasant symptoms later on.
Today, most diseases can be cured, and HIV can also be effectively managed. It is important to make an appointment with a dermatologist for a detailed evaluation, and so that appropriate treatment can be administered. With bacterial infections such as chlamydia, gonorrhea or syphilis, antibiotic treatment is enough to get the disease under control.
Condoms are still the best protection against infection. However, condoms are not 100% effective against all sexually transmitted diseases. For certain risk groups, for example, PrEP prophylaxis provides effective protection against HIV infection. Unfortunately, PrEP does not protect against all other infections, and regular checks for other STDs are therefore very important for PrEP users.
Many non-contagious diseases such as genital eczema or atopic dermatitis are exacerbated by over-zealous hygiene. It is recommended not to use soap to wash genital areas, as soap disturbs the sensitive microbiome. Genital and intimate hygiene products on the market are also discouraged, especially those that contain fragrances.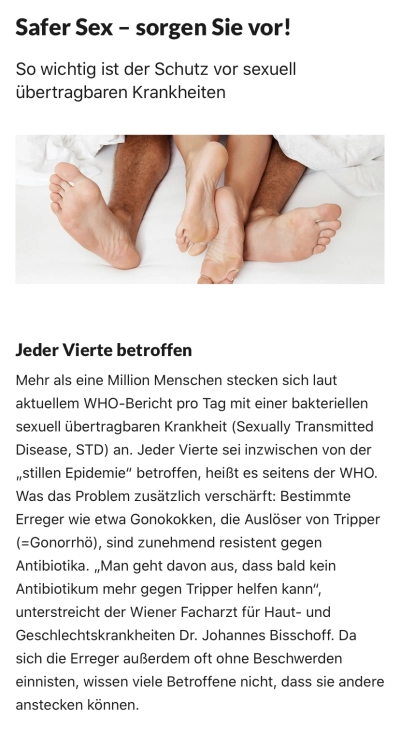 You can find the whole article here
Here you will find another article on the subject