MEDICAL COSMETIC SERVICES
IN OUR MEDICAL CENTER, WE OFFER INDIVIDUALLY TAILORED TREATMENTS FOR YOUR SKIN TYPE AND SPECIFIC SKIN PROBLEMS.
WE ENVISAGE THE FUTURE OF SOPHISTICATED COSMETIC SERVICES BY COMBINING THE EXPERIENCE OF OUR TRAINED BEAUTICIANS AND DERMATOLOGISTS. IN ADDITION, WE ALSO OFFER YOU PODOLOGICAL FOOT CARE IN OUR CENTER.
You find more details here.
Photo: © kravik93 - stock.adobe.com
A tired or blemished complexion can disrupt the interactions with those around you, as our face is the communication channel through which we express joy, health, and mood. Studies show that there is a correlation between success and healthy skin, as healthy skin is associated with competence on a subconscious level. Our goal is to provide you with fresh, radiant skin as well as to remedy various skin problems so that you can always shine with good skin health. Treatment can also have a rejuvenating effect.
Acne, rosacea, and sensitive skin are important to us, but all other skin types can also find suitable treatments for various concerns in our practice. Our range of services includes:
Individual treatment tailored to your skin type. Classic treatment components are deep cleansing, peeling, ampoule, face massage, moisturizing mask and final care
Individual anti-aging solution. The innovative concept was developed on the basis of the most modern medical-cosmetic technology. The treatment has a proven epigenetic effect
Tiny punctures that stimulate the body's own elastin and collagen synthesis
Method for fresh and radiant skin, also suitable for hyperpigmentation and acne
Permanent hair removal using high-performance lasers, even for dark skin types
Non-invasive action against wrinkles, clogged and enlarged pores, oily skin, acne and hyperpigmentation
Transdermal infusion with radio frequency and mesoporation to tighten, regenerate and improve skin hydration
Anti-aging express method with an immediate and lasting effect
And much more
We also offer comprehensive skin regimens with five treatments each. Here we offer packages especially for young skin, sagging skin, tired skin, and aged skin. These skin treatments are all from the Mesoestetic company and offer great solutions for the aforementioned skin issues.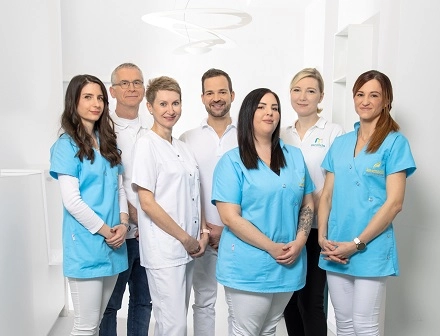 What sets us apart is that we combine specialist dermatological expertise and many years of cosmetic experience with modern equipment. You can expect high-quality treatments that are individually tailored to you and carried out with high standards.
We also know how important home care is. We take the time to discuss a suitable care concept with you, and in addition to the needs of your skin, we also ensure that your budget is taken into account. We especially recommend products that are well tolerated by sensitive skin and that have reduced fragrances, parabens, and that keep other additives to a minimum. Thanks to ongoing training, we are always up to date with the latest cosmetic developments. Antioxidants, growth factors or stem cells are often part of our care concepts.
You can make an appointment directly with our beauticians, who will be happy to give you comprehensive advice on medical beauty. If you would like to have a medical consultation to draw up a treatment plan, especially if you are considering medical treatment in addition to cosmetic / podiatry treatment, please make an appointment separately with Dr. Bisschoff, Dr. Maggoschitz, Dr. Pesendorfer, Dr. Spiegelfeld, Dr. Bounas-Pyrros or Prof. Dr. Rzany.
Photo: © derdetter.at
You find details about our treatments, equipment in our center in Vienna, prices, duration of treatments, team, products, and the technologies that we use here. You will also always find an 'offer of the month' here, which gives you discount on certain services combined with a free care product.
Looking forward to your appointment: