DEPIGMENTATION
MANY PATIENTS HAVE DEPIGMENTATION DISORDERS ON AREAS OF THE SKIN SUCH AS MELASMA, HYPERPIGMENTATION OR OTHER UNWANTED PIGMENTATIONS. THE PIGMENT SPOTS ARE OFTEN A BURDEN FOR THOSE AFFECTED BY THEM. IN OUR DERMATOLOGICAL PRACTICE IN VIENNA WE OFFER INNOVATIVE METHODS FOR SUCCESSFUL DEPIGMENTATION TREATMENT.
Photo: © lado2016 – stock.adobe.com
There are many different pigment spots that, on the one hand, can be classified according to what causes them.
The most common causes are:
hormonal (e.g. melasma / chloasma)
post-inflammatory (e.g. after facials)
phototoxic (e.g. bergamot oil)
systemic diseases (e.g. diabetes)
skin aging
On the other hand, a distinction is made depending on the depth of the pigment, on the surface (epidermis) or deeper in the skin layers (dermis). It should be noted that the sun plays a decisive role in all causes.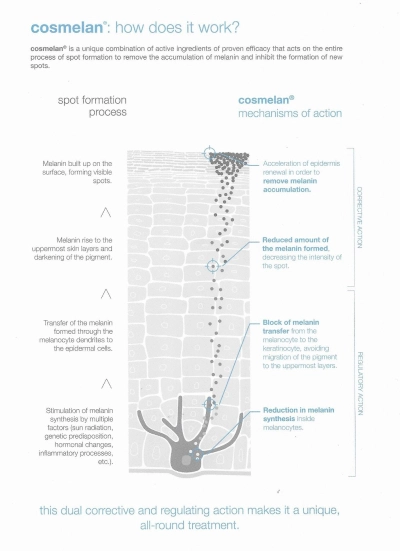 As already mentioned, pigment spots can be caused by a variety of factors, so dermatological evaluation is necessary. If the cause is not treated, symptomatic treatment methods can be unsuccessful.
Based on experience, the most common reason for pigment spots is hormonal hyperpigmentation. This condition is called melasma and usually affects more women than men. Melasma often occurs during pregnancy or when taking the contraceptive pill. Sun exposure can cause the formation of dark pigmentation, especially on the cheeks, forehead or around the mouth. In winter, the visibility of the spots is sometimes reduced even without treatment.
Another cause of hyperpigmentation is post-inflammatory hyperpigmentation or spots that appear after inflammation. Dark skin types are particularly affected in this case. Patients suffering from acne have a strong tendency towards developing patches on the skin after sun exposure. Those who opt for a peeling, micro needling or similar treatment should always ensure good and adequate sun protection afterwards. In the case of redness, inflammation or after skin operations, the sun should be completely avoided, especially if you have the appropriate disposition or skin type.
Certain substances in medication or essential oils can cause photosensitization. This leads to pigment shifts that are difficult to treat. In particular, bergamot and citrus can lead to skin problems as they are often used as fragrances in perfumes. In addition, commercial drugs such as ibuprofen, antihistamines, antihypertensives, contraceptives, antidiarrheals, antibiotics or antidepressants often cause hyperpigmentation.
Pigment spots are just as often the result of systemic diseases such as diabetes or obesity. In this case, the treatment of the underlying disease is an important prerequisite for the subsequent treatment of hyperpigmentation. In many patients, a misdirected immune system leads to the formation of white spots (vitiligo) on the skin. Vitiligo is mostly related to thyroid disorders and should be identified as precisely as possible.
Another reason for pigment spots is skin aging over time. This is where pigment shifts occur and so-called age spots (Lentigo seniles) appear.
There are various lightening creams on the market, some of them without a prescription. Ingredients that are often used include Vitamin A acid, Vitamin C, Recinol and more recently Tranexamic acid.
Depending on the pigmentation, a specific laser technique can be used under certain circumstances. Peels, mesotherapy or micro needling are often used alone or in combination. These procedures are treatments courses, which usually require several sessions at few week intervals.
In our opinion, the gold standard for pigmentation is Dermamelan treatment, which is only offered by specially trained doctors. You can find out more about this high-quality and effective treatment here.
In addition to cosmetics, you can also achieve good results by exfoliating, micro needling or laser treatment, as well as a Dermamelan treatment.
With dark skin types, certain procedures can lead to a worsening of the problem. As a result, laser treatments, certain peelings or other thermal (heat-based) procedures are not recommended. In these cases, I recommend micro needling or Dermamelan therapy.
Dermamelan is considered the world's leading depigmentation treatment a weaker and older version is also on the market and mainly used by cosmetic institutes (Cosmelan). The main concept behind the treatment is to regulate skin pigmentation in the long term. The treatment affects the entire melanin process and has a dual effect: on the one hand, the correction of the problem, and on the other hand, a permanent guarantee of successful treatment. Very good results have been achieved, particularly in the case of complicated post-inflammatory hyperpigmentation and melasma. This method is used without hesitation even with dark skin types.
The treatment reduces the function of the tyrosinase (melanin-forming enzyme) because it contains a copper chelate binder, which removes the copper from the enzyme. In this way, excessive melanin production is regulated. The other substances reduce oxidative stress and melanin synthesis.
Dermamelan prevents the transport of the melanosomes to the keratinocytes, which prevents the pigmentation from reaching the superficial layers of the skin.
Dermamelan works by reducing the amount of melanin produced and by reducing the intensity of hyperpigmentation.
Dermamelan acts as a "peeling" on the skin's layer, stimulating the renewal of the epidermis and fighting the generation of melanin.
Dermamelan consists of an application at the doctor's practice, and then subsequent home treatment. Medical treatment is based on an application that is adapted to individual needs and skin type. As a rule, you can expect treatment to last between three and six months in order to maximize long-term success. It should be noted that if the patient has a tendency towards hyperpigmentation, even after successful treatment, certain factors must be taken into consideration in order to prevent a relapse.
More information can be found here
Laser treatments are one of many ways to combat pigment spots. Laser treatment is the first choice for certain conditions such as age spots. For melasma or dark skin types, I advise against it. The heat can lead to post-inflammatory hyperpigmentation and a possible deterioration of the symptoms.
Permanent use of sun protection is 100% recommended. Patients with a dark skin type, who have a tendency towards hyperpigmentation when injured or infected (e.g. acne), should always use sun protection. Skin care that uses antioxidants such as vitamin C can help towards brightening and generally protecting the skin.
The best time to treat pigment spots is during the cold season. Redness may occur immediately after some treatments, especially in people who are prone to post-inflammatory hyperpigmentation (PIH). Therefore winter - also due to the lower sun exposure - is suitable to avoid any side effects related to light exposure.
Depending on the area, certain peels are also possible here. From winter 2019 onwards, a new Dermamelan treatment is available, called Dermamelan intimate, which was specially developed for the intimate, perianal and other sensitive areas such as armpits and thighs.
Some people who suffer from vitiligo often have patches of their old skin color as part of the condition. Unfortunately, there are no successful treatments are available to permanently remove this residual pigmentation.