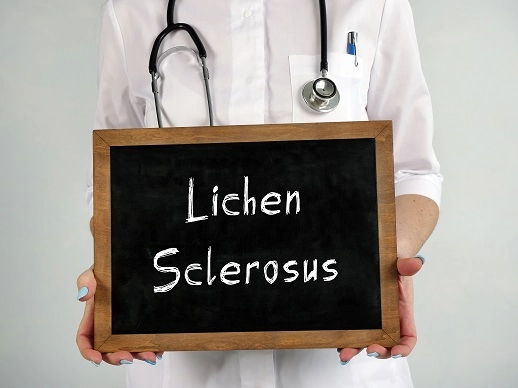 Lichen sclerosus
THIS COMMON NON-INFECTIOUS SKIN DISEASE OF THE VULVA IS NOT CAUSED BY ALLERGY OR INFECTION. IF LEFT UNTREATED, THE PROGRESSION OF THE INFLAMMATION CAN LEAD TO SCARRING, BONDING, AND CONTRACTION OF SKIN AREAS
Lichen sclerosus often presents itself as an annoying and persistent itching. It can also cause a burning sensation. The skin alterations are usually limited to the anogenital region. It is not common that other areas of the body are affected, though it has been detected under armpits or on the inside of wrists.
The disease initially presents itself as brown-red eczema. In addition, whitish and shiny (porcelain-like) skin areas can appear. In the later stages, scars can form, the skin shrinks and in severe cases there is pain during sexual intercourse, urination, and bowel movements.
Mostly women are affected. However, the disease can also occur in men, often as a narrowing of the foreskin. The disease can occur at any age. The causes of the connective tissue disease are still unclear. It is estimated that
- 0.1 percent of girls before puberty and
- 3 percent of women over the age of 80 suffer from lichen sclerosus.
The disease progresses slowly. Other inflammatory diseases such as psoriasis, inflammatory bowel disease and thyroid disease are also common.
Persistent itching presents itself in patients. Fungal infections are often suspected at first, as are eczema, psoriasis and allergic reactions which can also be associated with similar symptoms. This can mean that those affected often have to wait a long time for correct identification. A reliable diagnosis is only possible with a biopsy.
If you suffer from bothersome symptoms that you cannot identify, make an appointment with one of our dermatologists in our practice in Vienna.
Lichen sclerosus can cause considerable suffering in those affected, it can impair sexual activity, and can become an enormous psychological burden. There is a risk of a malignant change if such symptoms are not investigated by a doctor. There is also a risk of scarring, bonding, and contraction of the affected skin areas.
Lichen sclerosus can be treated with corticosteroids or immunosuppressive ointments. These relieve the bothersome itching in the genital area and allow the inflammation to subside. In this way, a protracted course of the disease can be avoided. A cure is currently not possible.
If the application of the ointment does not lead to the desired success, cortisone can also be injected directly into the skin. Appropriate skin care is important for lichen sclerosus. The sensitive skin areas should be treated regularly with moisturizing products as this reduces the feeling of tension and dryness.