Psoriasis
Symptoms can be controlled with a well-coordinated therapy to ensure a better quality of life.
It begins with the skin reddening intensely on the forearms, elbows, knees or scalp before becoming covered with silvery-white scales. There is extreme itching from the affected areas.
Psoriasis is common. Read here in which forms it occurs and what treatment options there are. How big are the chances of recovery? Is psoriasis contagious? Questions that we are often confronted with in our practice.
we are happy to assist you for a personal consultation.
Foto: © irina_g – stock.adobe.com
I have prepared the following for you in this article
Psoriasis is a disease of the skin that is largely genetic. The most common form is called psoriasis vulgaris. From small punctate to larger palm-sized, very itchy, scaly red skin lesions vary. The affected patients lose a lot of quality of life: on the one hand due to cosmetic reasons, on the other hand, the itching is very pronounced and disturbing.
Symptoms that are externally visible and cause permanent itching have a negative effect on a patient's mental wellbeing. This results in stress which is one of the trigger factors that promote psoriasis or trigger further relapses. A negative cycle is thus started.
Psoriasis affects around 250,000 people in Austria. More than three quarters of them have psoriasis vulgaris (classic psoriasis with scales).
Psoriasis is caused by a disorder in the immune system. The immune system identifies certain tissue as foreign and attack it. It is an extremely complex process which is associated with pronounced inflammatory developments in the skin and ultimately leads to severe scaling on the skin surface.
The majority of patients with psoriasis also have other affected family members. Although caused by a combination of factors it is believed that the cause is 70 percent genetic.
Psoriasis however does not only occur due to a hereditary predisposition. Environmental factors, infections, addictive behaviours, alcohol and nicotine, certain medications and emotional stress may trigger or worsen the disease.
More than half of all patients fall ill at a young age, before the age of 18. Juvenile (child) psoriasis is very often associated with upper respiratory and airway infections.
Psoriasis can develop on all parts of the body. It often occurs symmetrically on both body halves. Symptoms include severe itching, scaling, pain, and even mild bleeding. Most affected areas can be:
Head area, especially under the hair
arms and legs (elbows, kneecaps)
back and buttocks
around the navel
in the anal fold
around the genital area
Psoriasis affects the epidermis, therefore mucous membranes are free from the disease.
The disease usually occurs between the ages of 15 and 35 and usually takes a fluctuating course. It can develop slowly and stay steady for a long time. However, a fast and rapid spread is also possible.
The frequency of relapses can vary greatly and are caused by the so-called trigger factors. Sometimes there are long periods (years) between the occurrences during which the patients are completely symptom-free.
Depending on the extent of the disease, the disease can be perceived as mainly cosmetically disturbing or causing a marked decline in the quality of life.
The question is clearly "no". What can happen however is genetic transmission. The risk of developing psoriasis increases when there are cases of psoriasis in the family.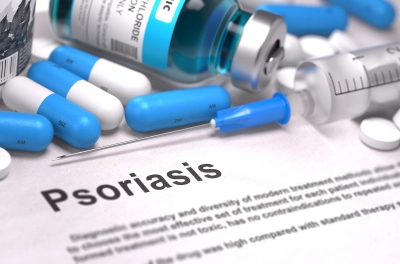 Psoriasis is not curable!
However, an individual treatment plan can lessen the symptoms to such an extent that a significant improvement in the quality of life is achieved and in some patients even long-term symptom-free intervals can be achieved.
There are a number of treatment options, depending on the form, severity, clinical manifestation, etc.
A consultation is required to assist with the diagnosis and a therapy plan.
You are welcome to make an appointment at our practice.
The treatment of psoriasis was revolutionised in the last few years. Because this condition is still considered as incurable, therapy or treatment can only be symptomatic. A lot can however be done to alleviate the burden. There are now some innovative oral and injectable therapies that lead to the disappearance of symptoms by a majority of patients.
Our service includes the following:
• A thorough consultation with a complete history and diagnosis.
• Planning of treatment, taking medical and individual needs into account.
• Advice on proper care and cleansing of the skin.
• Advice on lifestyle issues and other measures that influence the course and success of treatment
• Possible therapy offers:
Local therapies: In mild to moderate psoriasis the active ingredients are applied directly to the skin as ointments, creams, sprays or tinctures. Depending on the medication the effect is seen after one week.
Systemic therapies (internal use): Use is made of medication administered as tablets, injections or infusions. The effect begins a few weeks after the start of the therapy.
Biologics: Drugs produced by biotechnological processes. The drugs stop or slow pathological processes through systemic changes in the overreacting immune system. Biologics are used, among other things, in other auto immune diseases such as rheumatism, arthritis and inflammatory bowel disease.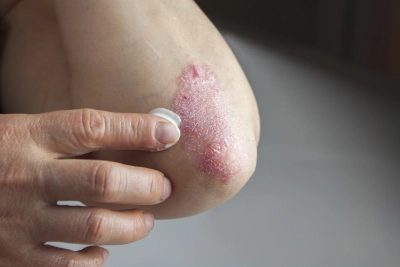 Psoriasis is an auto immune disease like arthritis and rheumatism. In 70 percent of cases, it is genetic and occurs between the age of 15 to 35 years.
It still has the status as "incurable". Treatments and therapy by your doctor are therefore symptomatic, although now well developed. For some patients a long-term symptom-free status can be achieved.
Avoiding trigger factors such as poor diet, unhealthy lifestyle and high stress levels can slow the progression, prolonging the period between attacks. A holistic therapy program can significantly increase the quality of life.
You are welcome to make an appointment for a first consultation at our practice.