EXPRESSION WRINKLES / EXCESSIVE SWEATING / MIGRAINE
BOTULINUM CAN ACHIEVE GREAT EFFECTS FOR EXPRESSION WRINKLES, EXCESSIVE SWEATING AND MIGRAINES. IF TREATMENT BEGINS BEFORE WRINKLES FORM, THEIR DEVELOPMENT CAN BE SLOWED. ALREADY DEFINED WRINKLES, ESPECIALLY IN THE UPPER THIRD OF THE FACE (FOREHEAD, FROWN LINES, CROW'S FEET), CAN BE RELAXED. OUR GOAL IS TO EMPHASIZE A NATURAL RESULT. YOUR NATURAL BEAUTY AND FRESH APPEARANCE IS OUR INSPIRATION.
Photo: © africa studio – stock.adobe.com
Upper third of the face: frown lines, forehead, crow's feet around the eyes
Middle third of the face: nose wrinkles (bunny lines)
Lower third of the face: chin, upper lip wrinkles, neck
Other indications: migraines, excessive sweating of the armpits, palms, and soles of the feet
In a consultation, the objective you desire is discussed. Treatment is then tailored to this. A few tiny injections are made with small, thin needles. The substance paralyzes the muscle impulses and thus leads to the relaxation of facial expressions. The effect is temporary, lasting for around 4-6 months.
Good results are also achieved with excessive sweating in the armpits, palms, and soles of the feet. Here the substance is also injected into the affected regions. The effect is temporary but lasts up to nine months.
For migraines there is a separate protocol where the injections are administered on the forehead, temples, back of the head and neck. The pain nerves are directly affected, and pain relief occurs. Neurological cooperation is significant in the treatment of migraines.
It is often said that, after treatment, some people have restricted facial expressions and their face looks unnatural. Facial expression is reduced by the treatment, but not paralyzed. When used by an experienced specialist in dermatology who, like us, has completed specific additional training and has many years of experience, a natural result is achieved. The aim is for those around you to comment on your fresh appearance, but not to notice that you have had treatment.
The active ingredient is botulinum toxin A. It is a protein that is obtained from the bacterium Clostridium botulinum. If it is injected into a muscle, it specifically blocks the nerve impulses there. As a result, the corresponding muscle, depending on the dosage, is no longer tensed as much as usual, or rather it is temporarily blocked. Other nerve functions of the skin, such as feeling or touch, are not affected.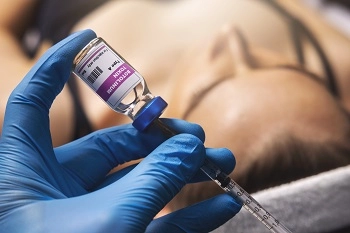 Photo: © ronstik - stock.adobe.com
Book your appointment in Vienna here
The active ingredient has been known since 1897 and was first produced in its pure form in 1946. It was soon recognized that injections can be used to specifically inhibit or block muscle activity. In 1980 the active ingredient was first specifically injected into a person as a drug. In 1989 the first drug with the active ingredient was approved in the USA after it had been tested for the treatment of strabismus, abnormal eyelid cramps and other muscle diseases. The relaxation of facial wrinkles after the treatment of eyelid spasm was observed as a side effect. Since 1988 the possibility of correcting wrinkles with the active ingredient has been researched. The first publication on this appeared in 1990. Thereafter, its use for the treatment of expression lines increased exponentially and is now an integral part of aesthetic medicine and medical beauty.
The full effect after one treatment develops 3-8 days after the injection and lasts about 4-6 months. The face then appears increasingly relaxed, but by no means mask-like. Over time, new connections between nerves and muscles are formed and the effect wears off. A more lasting effect is achieved through repeated treatments.
Treatment must not be carried out during pregnancy and breastfeeding, with particular muscle and nerve diseases, during certain antibiotic treatment, with specific autoimmune diseases and with acute skin disorders or inflammations in the treatment area. When taking anticoagulant medication, or if there are known coagulation disorders, an assessment will be made as to whether treatment can be carried out due to the increased risk of bruising at the points of injection.
Wrinkle treatment (frown and frown lines, crow's feet) 260 - 550 EUR

Headache / migraine treatment 350-550 EUR

Hyperhidrosis (excessive sweating) 590 EUR
Bruxism (grinding of teeth) 400-500 EUR
(final price depend on amount of substance needed)
Correct behavior will be explained in detail during the informative consultation. The basic rule is that you should refrain from exercising and taking a sauna on the day of treatment. For a few days afterwards, care should be taken to avoid activities that involve profuse sweating. Facial massages and other facials should be avoided for two weeks.