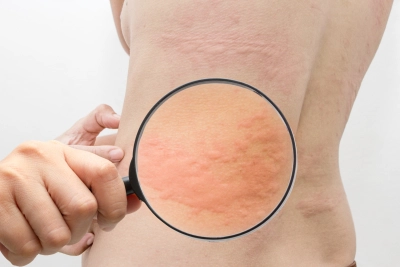 URTIKARIA (Hives)
Hives or the Latin term "urticaria" refers to an acutely occurring and misdirected skin reaction. It is also commonly known as "hives", "wheals" or "nettle rash". It is associated with redness, wheals and itching of the skin and has an adverse effect on the body and the psyche, also because of the mostly chronic nature.
This article covers the following:
Due to the exaggerated reaction of the body to a stimulus, similar to an allergy, histamine is released.
If you have ever "burned" yourself with a stinging nettle, you know which symptoms are typical to hives. It presents as reddened, itchy and often raised wheals.
The attacks don't last much longer than 12 hours but they are extremely stressful. According to the statistics, around 25% of the population sooner or later suffer from hives during their lifetime.
The most common form of the disease is known as "acute urticaria". This may affect patients for periods of 2 to 4 days, up to a few weeks.
From the 6th week it is considered as chronic. In this case, medical diagnostic is recommended to rule out possible underlying systemic diseases. Book an appointment

Untypically, swelling occurs in the deeper tissue, especially in the facial area (angioedema). Heavier cases spread to the mouth and throat. In that case, it is highly recommended that a doctor be consulted as these swellings may block the airways and respiratory system. Certain forms of hives are based on genetic causes. They are accompanied in many cases by joint problems or stiffness.
In the majority of diseases an infection or an allergy is the trigger. Light, heat, cold or pressure, even vibration or sport can not be excluded from the list of possible causes. Often a combination of different factors influence the course and severity of the disease.
If the disease persist, further diagnostic is required. In hives caused by an infection, the disease usually disappear by itself. For patients who come to our office and suffer from urticaria for more than 6 weeks, we offer a detailed medical history and examination. In addition to the mandatory blood test, we recommend consulting a dentist and ear, nose and throat specialist (ENT). Book an appointment in our practice in Vienna today
We recommend avoiding medications that are among the groups "non-steroidal anti-inflammatory (NSAIDS)" if there is a tendency for hives. Certain chronic medication such as blood pressure medication can trigger an attack in certain cases and should be evaluated. Also if no changes occurred to the chronic medication over many years, certain drugs can cause problems, even after years of good tolerance.
The current therapy recommendations for chronic spontaneous urticaria are structured in stages. In the first line (non-sedating) antihistamines in the usual dosage are used. They directly block the action of histamine. If this therapy is insufficient the individual dose will be increased. To minimize the risk of possible side effects, the intake should be changed in consultation with a doctor. In severe and persistent cases, even when increased doses do not work, injection therapy is the next step. An antibody therapy that reduces the response of the immune system has the approval for this disease. Fortunately in many patients with persistent complaints, the injection therapy can be used to alleviate the disease and restore quality of life. The therapy lasts on average 6 months with an injection every 4 weeks. At the end of this period the effectiveness is determined and a further continuation of the therapy is discussed.
If you are one of the patients with mucous membranes (angioedema), we strongly recommend that you always carry an emergency kit with you so that you can immediately treat yourself in the case of an attack.
Whether for further diagnostic or therapy, we will be happy to advise and help and support you in the holistic design of therapeutically required measures.